Nashville Unplugged Conference Wrap Up
---
The UNPLUGGED conference occurred, in Nashville, Tennessee, Oct. 26-30, 2022, honoring the achievements of its members, learning from industry peers and departing with a clear commitment and renewed energy to support the diversification of the architecture profession. More than 1,200 NOMA members, allies and students attended the sold-out, in-person conference, the first since 2019.
"We gathered as experts in our field to collaborate on the opportunities that advance NOMA's mission to increase the diversification of Blacks and all minorities in the design and architecture profession," said Jason Pugh, NOMA, AIA, AICP, LEED AP, 2021-2022 NOMA President and Gensler Principal Architect, Urban Planner and Global Director of DEI. "We were motivated by the keynotes and session speakers who provided their diverse perspective, creating new conversations to drive the change we want to see, but more than that, the conference gave many of us time to 'unplug' from the daily distractions to have a sense of belonging, recognize the many achievements of our members and reconnect as a NOMA family to focus on the future."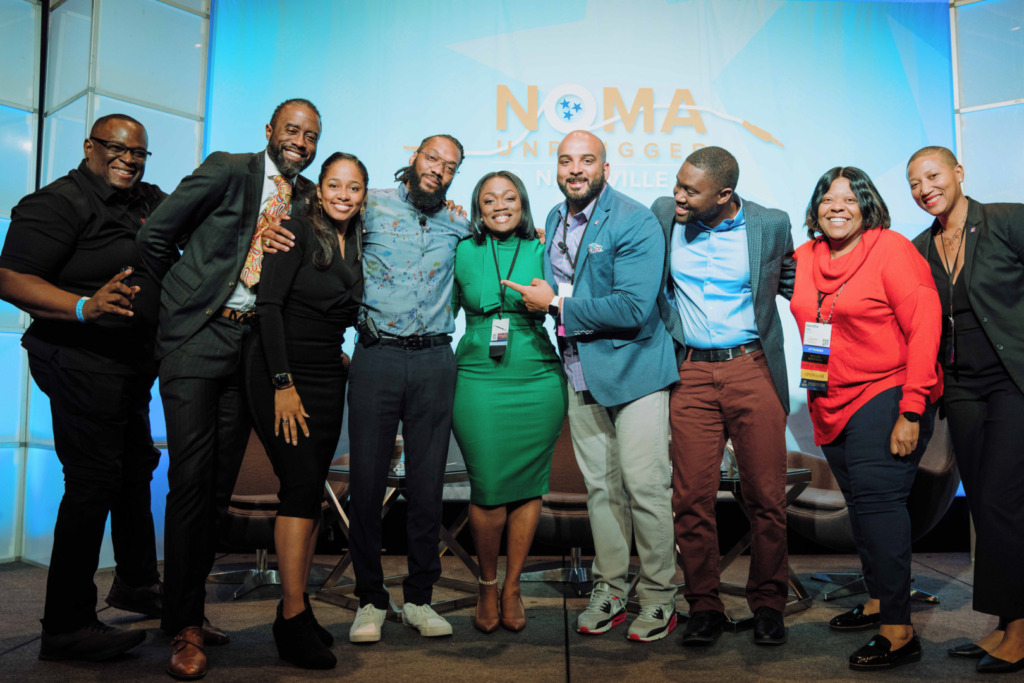 In support of NOMA´s mission to foster justice and equity in communities of color through outreach, community advocacy, professional development and design excellence, NOMA recognized 20 members who achieved architecture licensure in 2022: Victoria Acevedo (New York); Jessica Batty (Utah); Amanda Nicole Bridges (California); Nickie Cheung (Pennsylvania); Melissa Garcia (California); Juan Garcia (California); Kassandra Garza (Pennsylvania), Eddie Gomez (California); Alexis Hoff (Connecticut); Whitni Irving (Massachusetts); Journi Johnson (Colorado); Phyllis Kim (Pennsylvania); Elizabeth Lagarde (California); Joanna Mack (California); Dominique Moore (Connecticut); Melanie Ngami (Pennsylvania); Miguel Solorio (Arizona); Shikha Subramanian (California); Damon Thomas (Wisconsin) and BZ Zhang (California).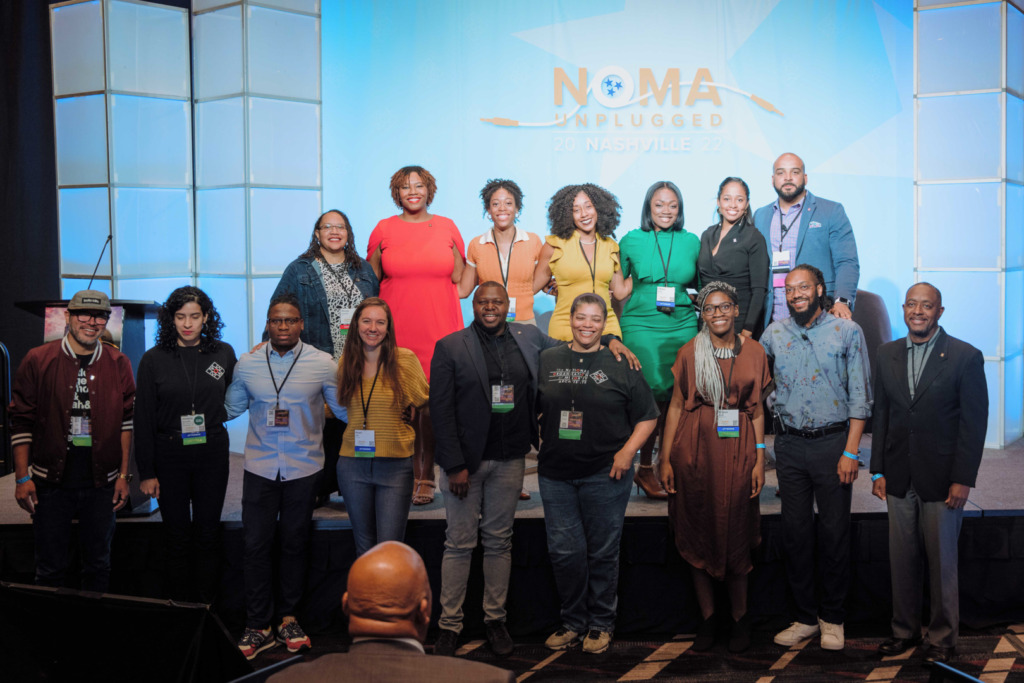 In addition to the inspiring keynotes and more than 50 educational seminars, conference attendees also celebrated the identification of two new founding members, Pedro Frank Lopez, AIA, NOMA, and Louis E. Fry Sr., FAIA, NOMA, a discovery made during research conducted to recognize the organization's 50th anniversary, as well as the induction of incoming NOMA President Pascale Sablan, NOMA, FAIA, LEED AP from current NOMA President Jason Pugh, NOMA, AIA, AICP, LEED AP.
"I am honored to serve an organization and its members who are dedicated to positively progressing our industry and built environment," said Sablan. "More than ever, there has been a massive culture shift where designers worldwide have led and organized in new ways to build a more purpose-driven just society. Using design and architecture to enrich, educate and heal the lives of people is powerful, and as an organization, we have the opportunity and responsibility to use our perspectives and tools to impact the way people live. I look forward to what we can accomplish together over the next two years and beyond."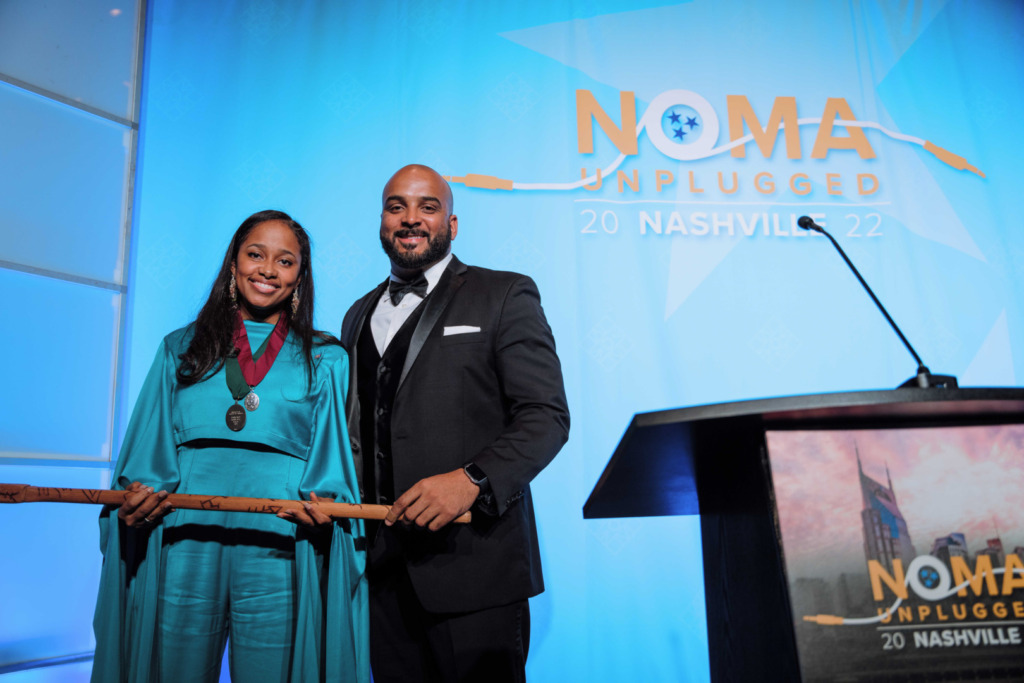 NOMA AWARDS BANQUET- PROFESSIONAL AND STUDENT AWARDS
NOMA hosted its annual awards banquet on Oct. 28, 2022, which honors exceptional leadership and award-winning work of NOMA professional and student members. The evening's mistress and master of ceremonies were Valarie Franklin, AIA, NOMA, Moody Nolan Senior Associate and Antoine Bryant, NOMA, Assoc. AIA, APA, City of Detroit Director of the Planning & Development Department respectively. Awards given included the NOMA Phil Freelon Professional Design Awards, NOMA Barbara G. Laurie Student Design Competition as well as individual and chapter honors.
"The NOMA annual awards banquet is a conference highlight of mine," said Pugh. "It's incredible to sit in a room with accomplished peers and colleagues recognizing their outstanding work. We're also inspired to hear from our legacy members of the NOMA Council who have pushed the boundaries for us and are motivated by the enthusiasm and intellect of the student chapters represented. The banquet is truly a moment of celebration."
NOMA PROFESSIONAL AWARDS
The NOMA Phil Freelon Professional Design Awards (images available) were presented to the following NOMA member firms:
Honor Award: EVOKE Studio Architecture, Design Architect, Hayti Reborn, Durham, North Caroline
Citation Award: EVOKE Studio Architecture, Design Architect, University of North Carolina at Charlotte Remembrance Memorial, Charlotte, North Carolina
Honor Award: Baskervill, Burt Pinnock, FAIA, NOMA, Principal-in-Charge and Architect of Record, Hearth:  Memorial to the Enslaved at William & Mary, Williamsburg, Virginia
Citation Award: JGMA, Principal Design Architect, S.O.S Children's Villages, Chicago, Illinois
Citation Award:  EskewDumezRipple, Architect of Record and Principal Design Architect, Mya, Salt Lake City, Utah
Historic Preservation, Restoration & Renovation
Honor Award: Studio8 Architects, Milton Hime, FAIA, NOMA, Architect of Record, Austin Community College – Rio Grande Renovation, Austin, Texas
Citation Award: JGMA, Principal Design Architect, Cristo Rey St. Martin, Waukegan, Illinois
Honor Award: EVOKE Studio Architecture, Architect of Record and Design Architect, North Carolina Central University 24/7 Collaborative Learning + Research Center, Dunham, North Carolina
Honor Award: University of Tennessee + Universidad de Oriente + Arizona State University, Parque Coral Volcadero, Volcadero Bay, Anzoategui, Venezuela

Milagros Zingoni, Design, University of Tennessee
Oriana Venti, Venezuela Architect of Record, Project Manager
Oriana Gil Perez, Design
Sonia Garcia, Project Manager

Citation Award: Storyn Studio for Architecture, Architect of Record, Design Architect, Bus Stop at the Press, West Palm Beach, Florida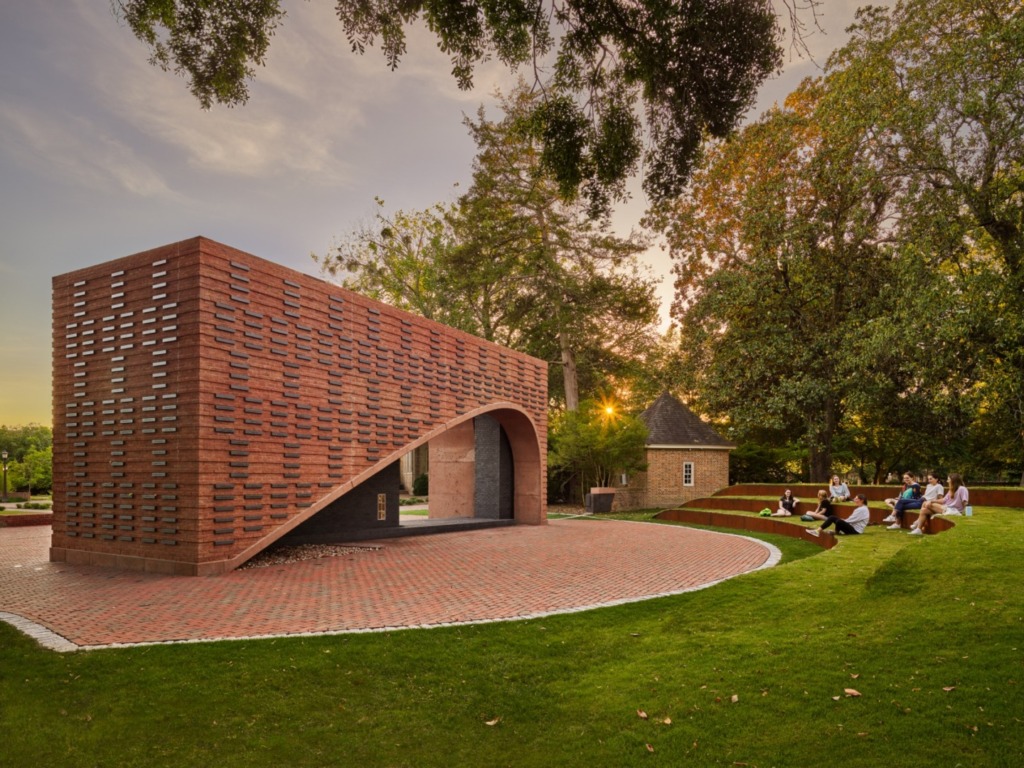 You can view all of the entries at https://submit.noma.net/gallery/gnQzxrEK .
The professional awards jurors included: Russell Baltimore, AIA, NOMA, Assistant Director Design Review, Planning & Development, City of Detroit; Adaeze Cadet, AIA, NOMA, NCARB, LEED BD+C, Sr. Principal, DThe professional awards jurors included: Deep Chaniara, NOMA, Associate at Pickard Chilton; Daimian Hines, NOMA, AIA, LEED AP, Principal at Hines Architecture+Design; Eman Siddiqui, NOMA, AIA, NCARB, Architect at GSBS Architects; Nicole Hollant-Denis, NOMA, AIA, NCARB, President at Aaris Design Architects and Dayton Schroeter, NOMA, AIA, SEGD, Principal and Design Director at SmithGroup.
---
NOMA COUNCIL FELLOWSHIP AND AWARDS
The following leadership awards were announced:
NOMA President's Award: Gary Nelson, NOMA, AIA, NCARB, NOMA Arizona
NOMA 2022 Member of the Year: William B. Brown III, FAIA, NOMA, NJ NOMA
NOMA 2022 Chapter of the Year – Large Chapter: NOMA Arizona
NOMA Chapter of the Year – Small Chapter: Wisco NOMA
NOMA 2022 Five-Star Chapters:

Central Texas NOMA
NOMA Arizona
NYCOBA|NOMA
South Florida NOMA
Wisco NOMA
---
NOMA STUDENT AWARDS
Every year, NOMA recognizes leadership excellence in their student chapters. Led by NOMA professionals across the country, the liaisons work with the NOMA Board to identify emerging talent in their student chapters. The 2022 National Organization of Minority Architecture Students (NOMAS) Student Member of the Year was Journi Goodman for her work as an undergraduate student at Tuskegee University.
The NOMAS Chapter of the Year winner was Clemson University.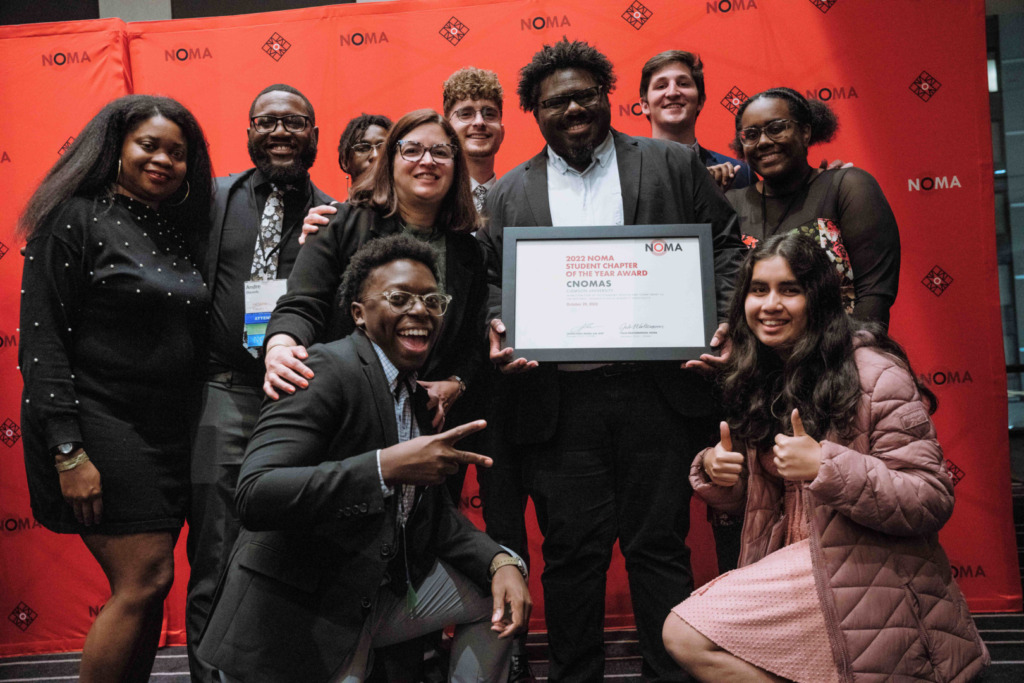 The 2022 NOMA Barbara G. Laurie Student Design Competition, sponsored by SOM, was focused on a project that serves to address the gentrification and displacement of North Nashville community members as the result of the Dwight D. Eisenhower's Interstate Highway System in the 1960s. Specifically, show how design and architectural strategies can rebuild a community. Students were asked to envision a complex that serves as a cultural center to preserve the history of North Nashville and a new bridge to serve as a landmark and monument for the community. Nearly 30 NOMAS chapters from colleges and universities entered the competition. First place went to Tuskegee University (Selah); second place went to Cornell University (Harmonic Counterpoint); and third place went to Woodbury University (A Bridge and a Song). The jurors also gave a special recognition to Syracuse University (Between the Land and Memory). View all of the entries at https://submit.noma.net/gallery/AgrLDmBL.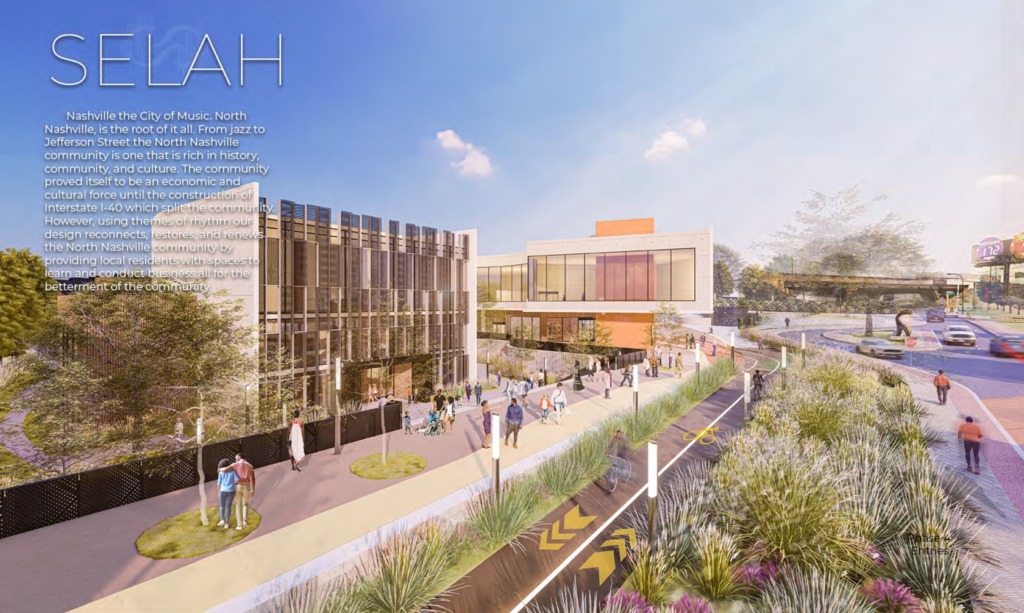 Jurors for the SOM-sponsored student competition included: Kristin Akin-Zimmerman, SOM; Tiara Hughes, SOM and Founder of FIRST 500; Ellen Abraham, SOM and Founder of Architect Pins; Emily Grandstaff Rice, 2023 AIA National President; Gary Gaston, CEO of Civic Design Center; and Fabian Bedne, community development manager with the city of Nashville.
The competition and jury was organized by NOMA's Regional University Liaisons:
Northeast: Melanie Ray, NOMA, AIA,
Midwest: Andreea Vasile-Hoxa, NOMA, Assoc. ASLA
South: Atianna Cordova, NOMA
West: Jamilla Afandi, NOMA, AIA, APA
The next NOMA conference is scheduled for Oct. 2023 in Portland.
"We cannot thank NOMANash enough for welcoming us to their wonderful city, Nashville," said Pugh. "Filled with history and culture, it's a reminder that we must continue to reflect on our past to inform our future. UNPLUGGED gave me this time to reconnect with the best and brightest in the industry, and I'm energized for what is ahead."
The Excellent Sponsors That Made the 2022 Conference Possible
| | |
| --- | --- |
| Diamond | |
| AIA | |
| LJC / Clayton | |
| National Council of Architectural Registration Boards (NCARB) | |
| Gensler | |
| HOK | |
| Perkins + Will | |
| . | |
| Gold | |
| HDR | |
| Hastings Architecture | |
| Stantec | |
| Perkins Eastman | |
| Carnegie Melon University | |
| Adjaye & Assoc. | |
| Moody Nolan | |
| . | |
| Silver | |
| Smith Gee Studios, Inc. | |
| Gresham Smith | |
| Gray AE | |
| Cooper Carry | |
| TMP | |
| STG | |
| VMWP | |
| National Trust for Historic Preservation | |
| CannonDesign | |
| Quinn Evans | |
| Travel Portland | |
| Avery Dennison | |
| ULI Tennessee | |
| University of TN (UT) | |
| Nashville Convention & Visitors Corp | |
| . | |
| Bronze | |
| Columbia University, GSAPP | |
| I.C. Thomasson Associates, Inc | |
| AIA DC | |
| Harvard University | |
| KTGY | |
| Mead & Hunt | |
| Guardian Glass | |
| National Council of Architectural Registration Boards (NCARB) | |
| University of Pennsylvania | |
| Schemata Workshop | |
| Manual Zeitlin | |
| Digsau | |
| ESa | |
| Ayers Saint Gross | |
| Turner Construction | |
| WallerLaw | |
| HKS | |
| EOA Architects | |
| Centric | |
| HDA Architects | |
| Belmont University | |
| Elkus Manfredi Architects | |
| . | |
| Student Competition | |
| SOM | |

---