NOMA's Response to the Pandemic: Staying ALL in
Dear NOMA Family: I write to you today with a full month of shelter in place behind most of us at this point. I want you to know that NOMA is squarely focused on securing the future of the organization and the success of our members in your professional endeavors. I continue to challenge you to #BeVisible and make your voices heard in the effort to advocate for diversity in the building professions. As we think about the future of cities and the role that architects can play in a post-COVID world, your voices will become more relevant than ever. Speak up.
NOMA 2020 Conference Update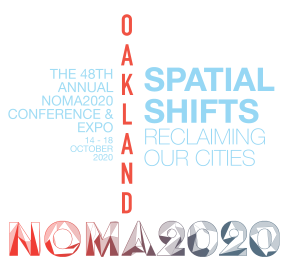 While we cannot predict the future, I can provide some insight on the near term concerns that we've been hearing from around the organization. In response to inquiries we've received about NOMA's annual conference (October 14-17th in Oakland, CA), I'd like to express that it is still too early for us to make a determination. We believe that we'll have enough information to arrive at a final decision on this matter by July.

We recognize that NOMA's conference represents a time of friendship, learning, connections, culture and history. It brings our professional members together with our students. It connects architects to planners, allied professionals, academics and public officials. We break bread together. We hug. We dance. We celebrate our heritage. We touch each other's hearts. The NOMA conference is truly a highlight of the year for most of us.

Knowing this, we are committed to hosting the 2020 NOMA conference later this Fall, as long as it is safe. Your safety is the most important driver of the final decision. While we don't yet know what will happen with the pandemic, we are continuing our planning efforts and the hard work to make the conference happen, even if it needs to convert to a virtual format.
With that said, please support us by registering for the conference once registration is open, by submitting a seminar proposal, by submitting for the awards program, by entering the student design competition and by being a professional or school exhibitor. Please also consider urging your company to be conference a sponsor. The show will go on, one way or another.
Stay ALL in for NOMA Online Event Series Kick-Off
To further discuss our annual conference and a range of other topics pertaining to the state of affairs with NOMA, please consider joining us TODAY at 3pm EST for our kickoff of the Stay ALL in for NOMA Online Event Series. Joined by several other NOMA leaders from across the country, I will further elaborate on what the organization is doing to help our members weather this public health and economic crisis. We welcome your questions and look forward to the event.
Connection Details:
Please join from your computer, tablet or smartphone.
https://global.gotomeeting.com/join/886198421

You can also dial in using your phone.
United States: +1 (872) 240-3212
Access Code: 886-198-421

New to GoToMeeting? Get the app now and be ready
when your first meeting starts:
https://global.gotomeeting.com/install/886198421
Whether or not you'll be able to participate in the online series, please know that we are here for you and we're so grateful that you are staying ALL in for NOMA.
ALL the best,
Kim
Kimberly Dowdell
2019-2020 NOMA National President
president@noma.net
www.noma.net