NOMA's Response to the Pandemic: Staying ALL in
Dear NOMA Family: I hope this note finds you well. In times of crisis, we need to know that we can depend on one another. Over the past week, I've heard from some of our members who have lost jobs, contracts, or worse, loved ones. My heart goes out to each one of us navigating these challenging times in our own way. I urge everyone to be encouraged and retain a sense of hope. We will get through this, together.
As a team, NOMA leadership is thinking about how to offer support to our members through the difficulties you may be facing. If you have ideas, we encourage you to contact your local leadership or national board members. We want to hear from you and remain meaningfully connected. This weekend, the NOMA National Board will be holding our Q2 meeting online, which means that we'll be hosting the quarterly NOMA Virtual Townhall on Friday, April 24th at 5pm EST via Facebook Live. Please tune in!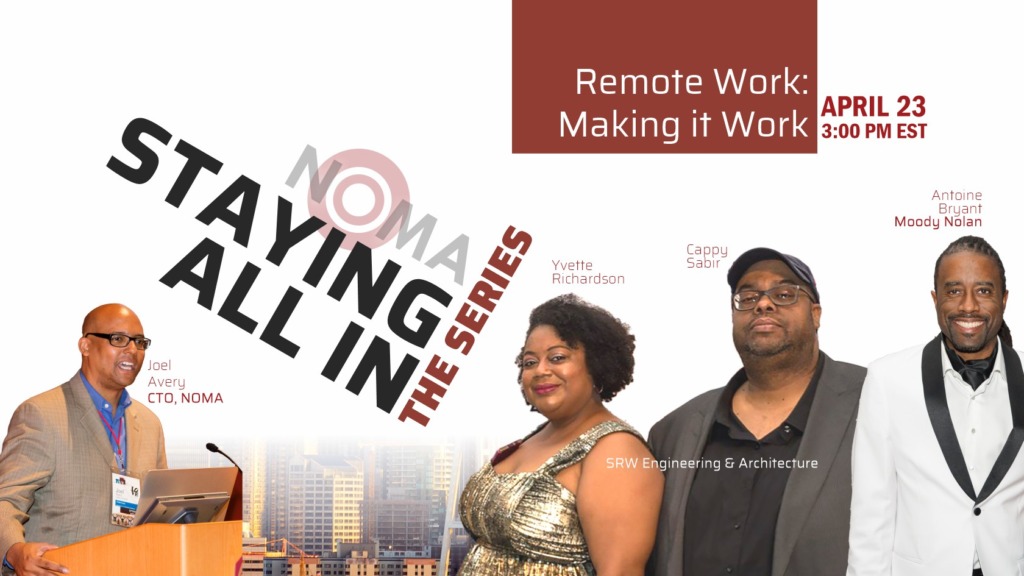 Stay ALL In for NOMA Online Event Series – Episode Two
In this new day of required remote work, we're all finding ways to make it work and learn as we go. Sole proprietorships and small businesses typically have the greatest challenge during downturns. How can offices of varying sizes make remote work successful, still connecting to each other and to clients, while working from home?
Join NOMA's Chief Technology Officer, Joel Avery in conversation with Moody Nolan's Antoine Bryant as well Cappy Sabir and Yvette Richardson of SRW. Moody Nolan has 12 offices and 230 employees. SRW has two offices and 30 employees. We anticipate a dynamic discussion about how to make it work with whatever technology challenges you may be experiencing. Please consider joining us 04.23.2020 at 3pm EST .
Connection Details:
Please join from your computer, tablet or smartphone.
https://global.gotomeeting.com/join/886198421

You can also dial in using your phone.
United States: +1 (872) 240-3212
Access Code: 886-198-421

New to GoToMeeting? Get the app now and be ready
when your first meeting starts:
https://global.gotomeeting.com/install/886198421
Whether or not you'll be able to participate in the online series, please know that we are here for you and we're so grateful that you are staying ALL in for NOMA.
ALL the best,
Kim
Kimberly Dowdell
2019-2020 NOMA National President
president@noma.net
www.noma.net