NOMA's Response to the Pandemic: Staying ALL in
Greetings NOMA Family: I hope this message finds you all well and in good health. In response to the growing concern that many of our firm owner members are expressing relative to uncertainty in the economy, we have invited a team of financial professionals to walk us through the CARES Act for this week's Stay ALL in for NOMA Online Event.<br>Now more than ever, we are counting on one another to weather these difficult times. It is imperative that we communicate our professional concerns so that NOMA's leadership can do whatever we can to address those issues directly. Today's online event is an example of our efforts to respond to the feedback that many of you are sharing about how we can help you navigate this complicated era. Together, we will get through this.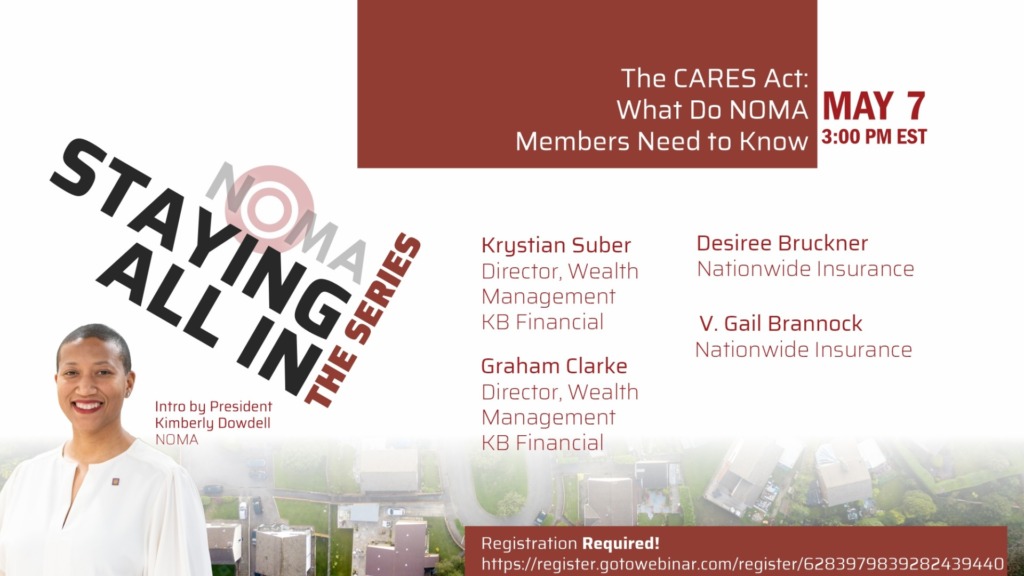 The CARES Act: What Do NOMA Members Need to Know
The Coronavirus Pandemic is causing immense hardship for the world, but in particular, communities and businesses of color. Join us to talk with experts about the Coronavirus Aid, Relief, and Economic Security (CARES) Act and how to gain access to the funds. This over $2 trillion economic relief package is intended to provide fast and direct economic assistance for American workers, families, and small businesses, and preserve jobs for our American industries. However, the rules seem to change every day on what's possible and how to access the funds. Learn more about items including: tax filing deadline extensions; CARES Act retirement plan exceptions (401K, 403B, etc.); after-tax rollover to Roth; PPP Loans and loan forgiveness; debt forgiveness and more. Join us TODAY at 3:00 pm EST.
IMPORTANT NOTE: Due to the sensitive nature of this financial discussion, we have created a new link. You will be required to log in to the link below to access the webinar at 3pm today.
Connection Details:
https://attendee.gotowebinar.com/register/6283979839282439440
Whether or not you'll be able to participate in the online series, please know that we are here for you and we're so grateful that you are staying ALL in for NOMA.
ALL the best,
Kim
Kimberly Dowdell
2019-2020 NOMA National President
president@noma.net
www.noma.net