NOMA's Response to the Pandemic: Staying ALL in
Greetings NOMA Family: As most of us embark upon two full months of sheltering in place, I wanted to encourage you to hang in there. This has been a trying time for everyone in different ways but remember that we are resilient. While there is not a clear indication of when things will clear up, we must continue to press toward our goals.
I have a goal of NOMA reaching 2,000 members this year. I'm pleased to see that we're nearly halfway there with just under 1,000 members currently. Please invite your peers to consider joining or renewing their membership today. There is strength in numbers. #ALLinforNOMA
I also have a goal of placing all 25 of our NOMA Foundation Fellows with a paid Summer internship by July 1st. We've had a handful of placements at this point, but we anticipate matching all of our fellows with opportunities in the coming weeks. Our young people are the future of NOMA and our profession, so I urge everyone in a position to mentor and/or employ a student or recent grad to please consider doing so. #Access
Thus far, we have heard some really encouraging feedback about how our Stay ALL in for NOMA online event series is helping people remain connected. We are delighted to continue the series later today with a focus on legacy building. My Access Leadership Legacy (ALL) platform for 2019-2020 has been all about supporting our members (and future members) at every step along the way, demonstrating the value of the NOMA network.
Now more than ever, we are counting on one another to weather these difficult times. It is imperative that we communicate our professional concerns so that NOMA's leadership can do whatever we can to address those issues directly. Today's online event is an example of our efforts to respond to the feedback that many of you are sharing about how we can help you and our firm owner members think about succession planning and the future of their businesses. Stay tuned for more on content about legacy over the next few weeks as we showcase the winners of the Phil Freelon Professional Design Awards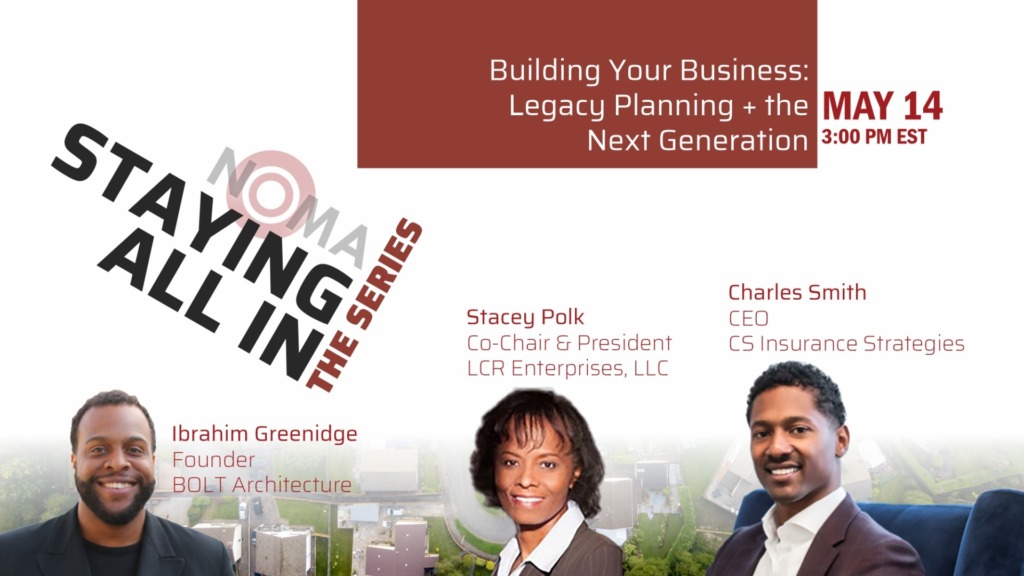 NOMA members have thriving design and architecture firms. However, fewer NOMA member firms survive more than one or two generations. Nationally, only 30 percent of businesses make it to the second generation. Architects take pride in building things that last. Now let's translate those skills to your firms: strong in infrastructure, robust in execution and dynamic in approach. Join NOMA member and small firm founder and owner Ibrahim Greenidge, Bolt Architecture, as he moderates a conversation about where to start on succession planning for your business. This will be a multipart series to help breakdown the process for NOMA members. Visit the main program page to see the recording.
Introduction: Kimberly Dowdell, NOMA President. Moderator: Ibrahim Greenidge, Bolt Architecture. Presenters: Stacey Polk, LCR Enterprises, LLC Co-Chair and President; Charles Smith, CS Insurance Strategies CEO.
ALL the best,
Kim
Kimberly Dowdell
2019-2020 NOMA National President
president@noma.net
www.noma.net