NOMA's Response to the Pandemic: Staying ALL in
Greetings NOMA Family, As our nation prepares to re-open, I simply wish to urge each of you to exercise your best judgement and stay safe. You are a vital member of our community and we would be devastated to lose you to this deadly virus or anything else that could put you in harm's way.
With that said, it is deeply disappointing to see racism pose a different kind of deadly threat. Most of you have seen the recent media coverage of men and women of color being unfairly treated and killed. Jogging, sleeping and even birdwatching while Black should not be dangerous activities, yet in our current reality, they are potentially fatal mistakes. This is unacceptable. Our main focus should be battling a global pandemic, not the biases of our fellow Americans. Again, I encourage you to be careful on many levels. We need you and I pray for your safety from all hurt, harm and danger.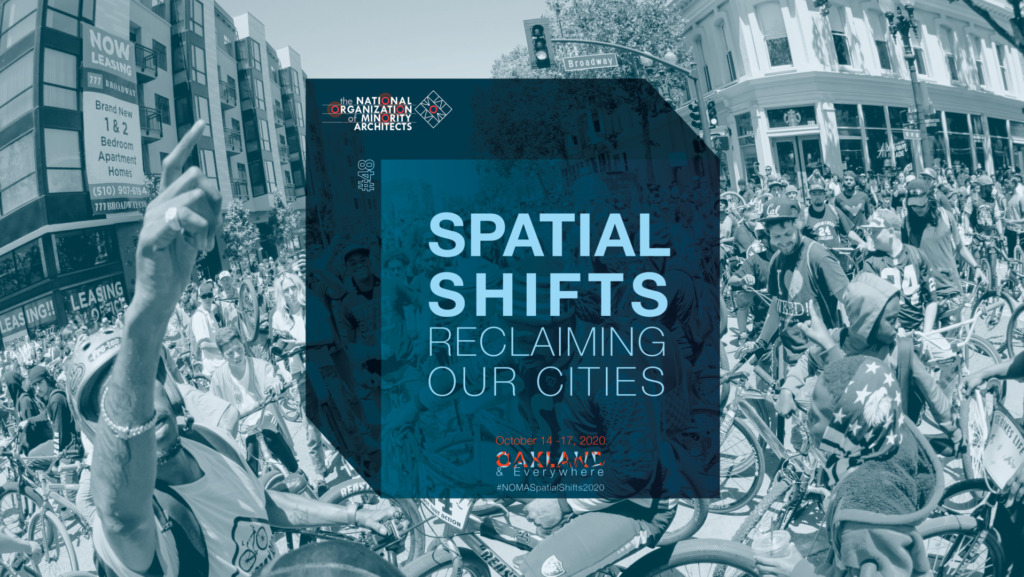 NOMA Conference Update
In an effort to prioritize your safety, the NOMA National Board has made the difficult decision to convert our annual conference from an in-person event in Oakland, California to a virtual conference. While we are disappointed to not be able to convene with you in October, we are actually very excited to announce NOMA Everywhere: Spatial Shifts 2020 (a virtual conference curated by SFNOMA), which will be held October 15th – 17th, 2020. We will still host the Barbara G. Laurie Student Design Competition as well as the Phil Freelon Professional Design Awards along with our other awards programs and dynamic content for your consumption. We will offer continuing education credit opportunities for licensed participants. Our annual business meeting will include leadership elections, bylaw change proposals and public acknowledgement of our newly licensed architects. NOMA has always been a resilient and creative organization and we are determined to blaze a new trail in the space of virtual conference delivery.
2019 Phil Freelon Professional Design Award Presentations
Shifting gears, I would like to remind everyone that we are preparing for part two of our Phil Freelon Professional Design Awards presentations this evening. Please find the details below and tune in to engage in what will certainly prove to be a dynamic discussion about design excellence. The legacy of our members is ours to celebrate, protect and elevate. In the spirit of elevating work, I invite you to consider documenting your work and submitting it for inclusion in notable collections. One such opportunity is described below:
Smithsonian's Rendering Visible Opportunity The National Museum of African American History and Culture (NMAAHC) is launching Rendering Visible, a project to document the creativity of Black architects and to advance knowledge, visibility, and engagement with their visual production. In particular, the museum is inviting submissions of drawings, sketches, and other artistic material for an online archive, and possibly a print publication, focused on the architectural imagination. Submissions are due June 30, 2020 using the form link here: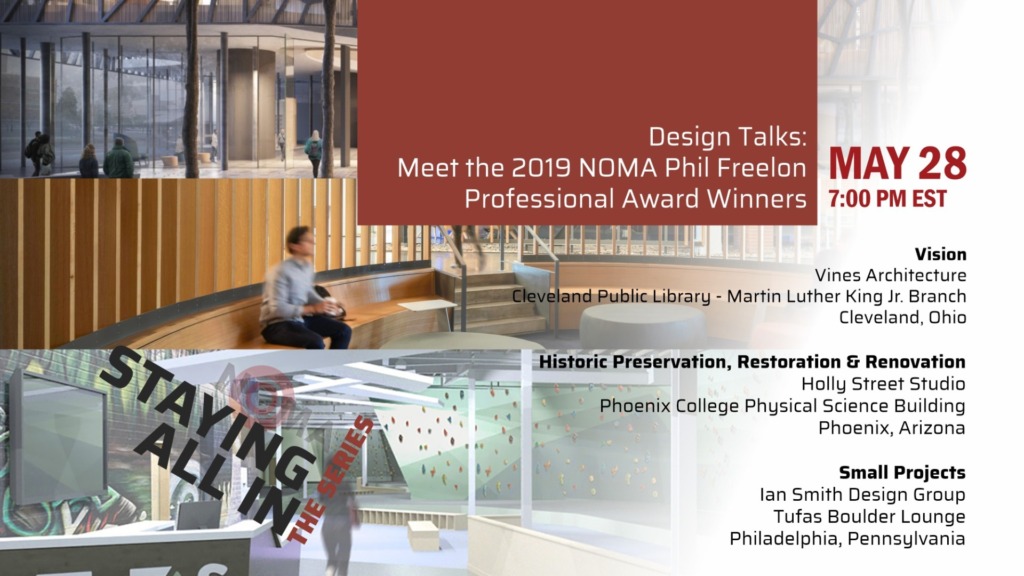 Design Talks: Meet the 2019 NOMA Phil Freelon Professional Award Winners for Vision, Renovation and Small Projects Category
The 2019 NOMA Phil Freelon Professional Design Award winners were honored for their design excellence at the NOMA Conference in Brooklyn. Join three of the five winning firms for a quick round of design talks on the following projects:
Vision Category: Vines Architecture, Cleveland Public Library–Martin Luther King Jr. Branch, Cleveland, Ohio
Historic Preservation, Restoration & Renovation Category: Holly Street Studio, Phoenix College Physical Science Building, Phoenix, Arizona
Small Projects Category: Ian Smith Design Group, Tufas Boulder Lounge, Philadelphia, Pennsylvania
The conversation will be hosted by National Awards Chair, Jimeca Sims.
Connection Details:
Please join my meeting from your computer, tablet or smartphone.
https://global.gotomeeting.com/join/886198421
You can also dial in using your phone.
United States: +1 (872) 240-3212

Access Code: 886-198-421

New to GoToMeeting? Get the app now and be ready when your first meeting starts:
https://global.gotomeeting.com/install/886198421 Whether or not you will be able to participate in the online series, please know that we are here for you and we are so grateful that you are staying ALL in forNOMA.
ALL the best,
Kim
Kimberly Dowdell
2019-2020 NOMA National President
president@noma.net
www.noma.net