Fireside Chats & Presenters
---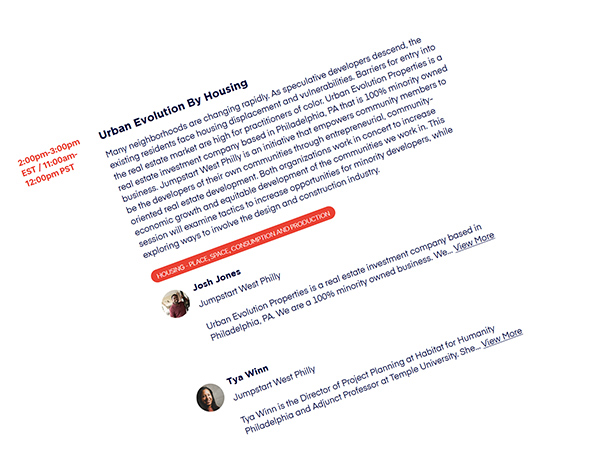 The sessions are being populated in the Conference20202.NOMA.net schedule. Of course it is subject to change but you can take a sneak peak right now: https://conference2020.noma.net/series/sessions2/schedule
Sampling of topics:
NYC Health + Hospital Centers for Excellence: Redefining the Critical Path
Cultural Districts: Revitalizing Cities and Preserving Community Integrity
Building Sustainability in Urban Sprawl: History, Preservation, and Development in Forney, Texas
The Texas Southern University Library Learning Center: Comprehensive Community Engagement Manifested
The J.E.D.I. Agenda: An Intersectional Approach to Designing a Just and Equitable Future
Changing the Narrative: The Black Architect- Removing Obstacles, Creating Opportunities
SoCalNOMA Presents: The DEI Challenge
Worker-Owned Firms; Cooperative Networks; Unions; Employee Stock Ownership Plans (ESOPs)
WATER BLOCK Kids: Re-imagining and Reclaiming Black Futures
Thursday, October 15th, Fireside Chat: Un-building Racism
Liz Ogbu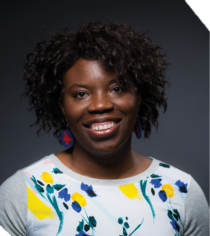 Founder, Studio O
A designer, urbanist, and spatial justice advocate, Liz is a global expert on engaging and transforming unjust urban environments. From designing shelters for immigrant day laborers in the U.S. to a water and health social enterprise for low-income Kenyans, Liz has a long history of working with communities in need to leverage the power of design to catalyze sustained social impact.
Liz has written for and been profiled in publications such as The New York Times, The Atlantic's CityLab, and the Journal of Urban Design. Her honors include IDEO.org Global Fellow, TEDWomen Speaker, Aspen Ideas Scholar, and Senior Fellow of the Design Futures Council. She earned architecture degrees from Wellesley College and Harvard University.
Deanna Van Buren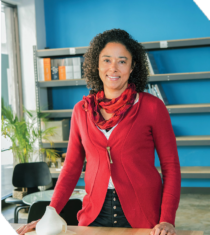 Co-Founder, Designing Justice,
Designing Spaces
An architect and nationally known advocate for magnifying the role of design for ending mass incarceration. Her work includes the creation of multi-use hubs for restorative justice and workforce development across the country. Successful projects include the Restore Oakland the Atlanta City Detention Center.
June Grant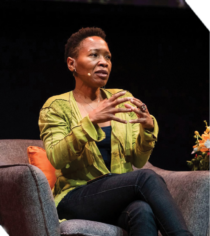 Founder, blink!LAB architecture
An architect, urban designer and sustainable development strategist, her Oakland-based studio is focused on the regeneration and celebration of historic African-American communities nationwide through a combination of design, advocacy, and digital fabrication technology.
June has presented at several conferences including the Obama Green Gov Summit, and was included in the 2019 YBCA 100 list of artists, leaders, activists, thinkers, movers, and dreamers who are using their creative and political power to enact change.
---
THEMES
---