50 Years – The Founders
In celebrating our legends and echoing the NOMA core value of Legacy, the Historian Committee is proud to introduce you to our NOMA hero's the NOMA Founders, William M. Brown Jr., Leroy M. Campbell, Wendell Campbell, John S. Chase, James C. Dodd, Kenneth G. Groggs, Nelson A. Harris, Jeh V. Johnson, E.H. McDowell, Robert J. Nash, Harold Williams, & Robert Wilson.

As we look forward to NOMA's 50th Anniversary in 2021, to be celebrated where it all started in Detroit, Michigan, we will be elevating the identities and contributions of our founders each month. Their identities are signified by the 12 dots seated around the national logo diamond, represented in the color of the pins worn by NOMA Council members.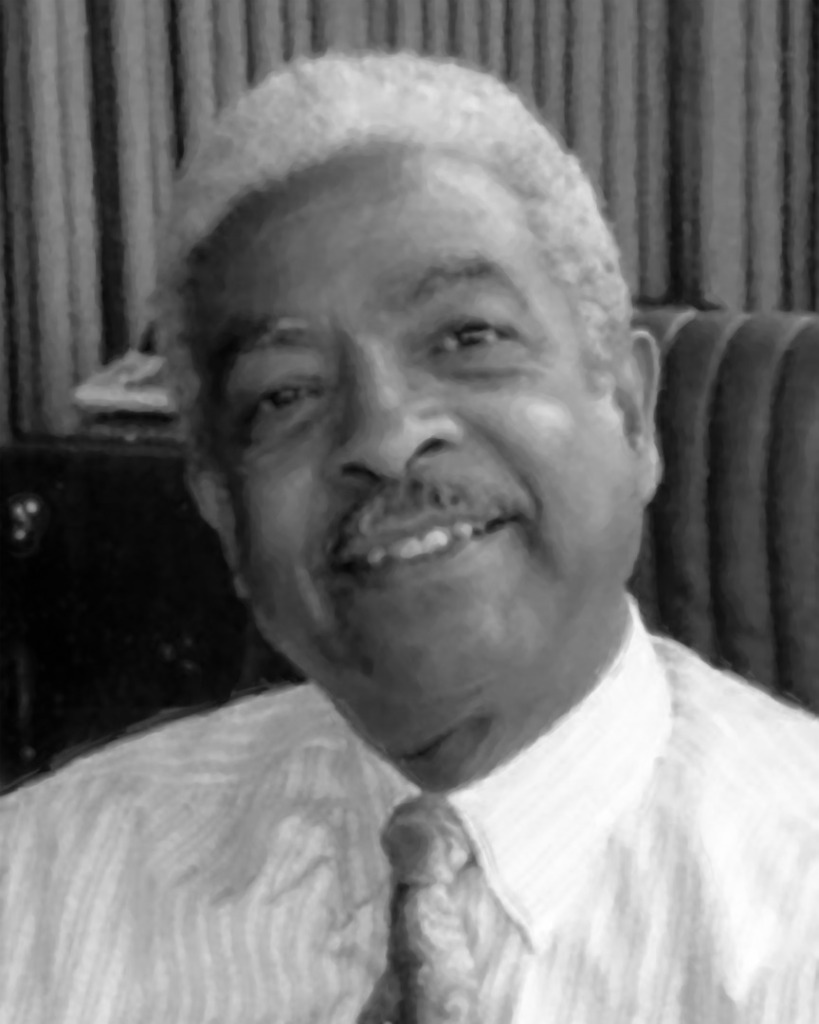 Harold Williams
Harold Louis Williams, FAIA, NOMAC, practiced architecture for over fifty years, in Los Angeles California. He established the firm of Harold Williams Associates (HWA), Architects & Urban Planners. For a time he was principal in a partnership, Kinsey, Meeds & Williams, as well as joint ventures with other firms. Mr. Williams was the chief architect on public buildings projects including the Compton City Hall, 1976; the South Central Los Angeles Multi-service and Child Development Center, Los Angeles, 1976; Compton Civic Center, 1977; California State Office Building, Civic Center, Van Nuys, 1982; the Fire Station Number 3, Compton, 1989; and the King Drew Medical Magnet High School, 1996.
Harold prided himself in the repeat clients including Los Angeles Unified School District, the City and County of Los Angeles, as well as the California Universities. Mr. Williams provided leadership and active participation to address some of the issues confronting the African American community. He was the organizer, founder and first president of the Southern California Association of Minority Architects & Planners (MAP) in the 1960s. They sought equity and justice and participation in the public built environment. Affirmative Action programs forced open opportunities for practice. As the movement expanded nationally, Harold became a co-founder of the National Organization of Minority Architects (NOMA) in 1971, He served as NOMA National President 1981 – 1982, and He is a Charter member of The NOMA Foundation and he has served as its President and Treasurer.
Concern for the community, its artistic and cultural environment, led him to become the first African American member of the Committee for Simon Rodia Towers in Watts, August, 1963. Under his dedicated leadership as chairman, a new Watts Towers Art Center building was built in 1967. The foundation he laid is the basis for the current community arts program.
Harold Louis Williams, FAIA's contributions and talents have been recognized locally and nationally. Awards for excellence in design were received from the Society of American Registered Architects and the National Organization of Minority Architects. The L.A NOMA Chapter awarded him for Humanitarian Service in 1991. He was elevated to the prestigious College of Fellows, American Institute of Architects in 1994, "for outstanding service to the nation and the architectural profession".
In 2013, the Compton City Hall was subject of the Los Angeles Conservancy Award to Chattel, Inc. They cited that when the city opened its doors in 1977, Compton City Hall symbolized a new era for Compton, a city that went from being almost exclusively white before World War II to majority African American by the 1970s.
His design of Compton City Hall represented his desire to give something back to the African American community. It was concluded that the building is eligible for listing in the National Register as the finest building designed by Harold L. Williams, FAIA.
Mr. Williams held a Bachelor of Architecture Degree, School of Architecture, Miami University, Oxford, Ohio 1952. He pursued graduate studies in Urban Design at University of Southern California. He was born in 1924 in Flemingsburg, Kentucky and raised in Cincinnati, Ohio. He has resided in Los Angeles since 1955 with his wife of 60 years, Dr. Betty Smith Williams. He was the 9th African American Architect licensed in California in 1958.
[Republished with permission of SoCalNOMA.]