Spatial Shifts: Reclaiming our Cities
---
It's Almost time
Over a thousand of your colleagues of registered to hear speakers from around the globe and nearly every state in the union. Architects, designers, planners, community activists, technical evangelists, all are gathering virtually to hear the unique bouquet of presentations of the NOMA Conference.
You're not convinced yet? Take a look at the schedule. The details are being finalized but you should be able to get enough of a taste.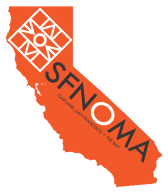 Cities are changing. Populations and economies in Oakland, Dakar, and beyond. Globally, our cities are changing from population to economies near and far. We, as designers, community members, leaders, and environmental stewards, need to be prepared to champion and shift the issues of our current structures to more equitable systems. We must fight to provide access for all to quality public spaces and create opportunities for the masses to enter and engage in our professions.
There is a gap between design development and who ultimately declares what is built in our community. Reckoning with the past, we need to question who has a right to ownership and who has a voice in the design process to build a better future. Using the collaborative tools of the internet, we will collectively explore and share ways to reshape our communities, to fill those gaps in design justice, and move towards a new renaissance.
---
Schedule Summary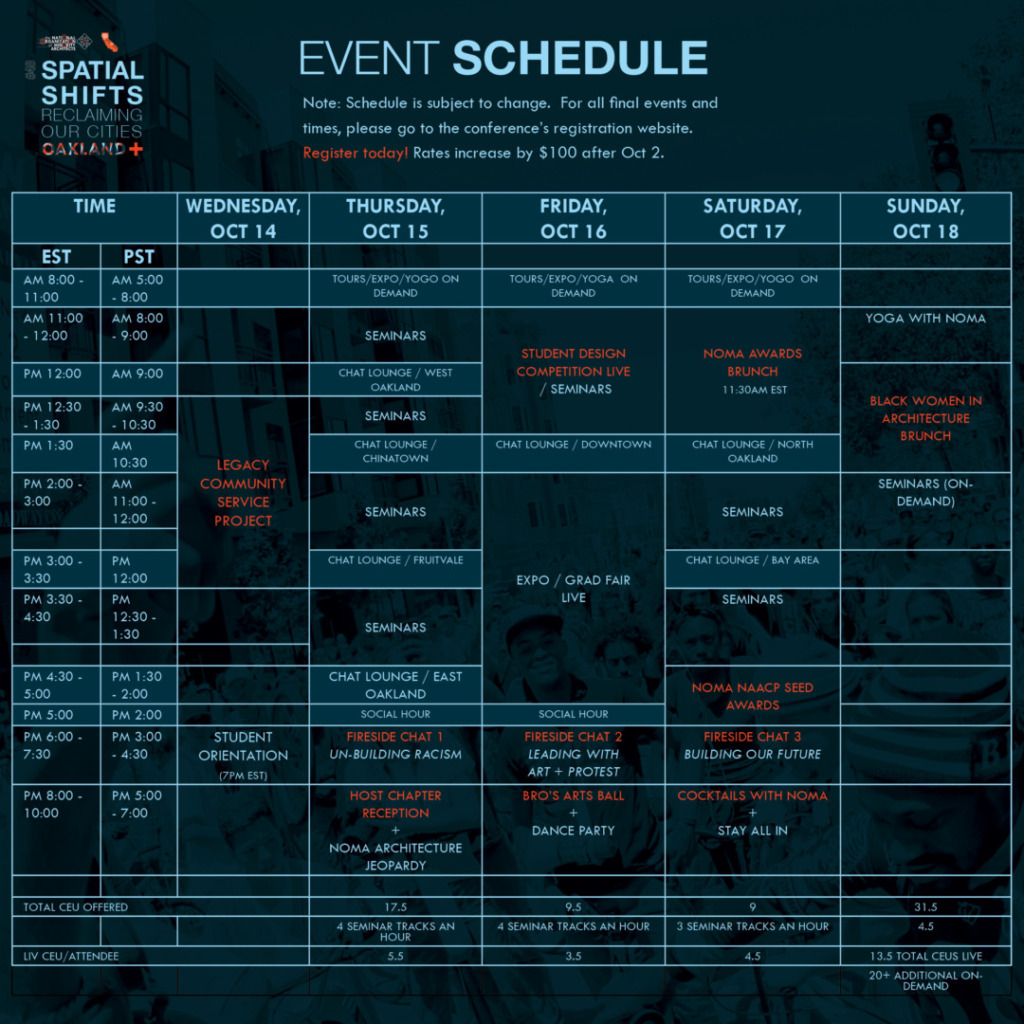 ---
THEMES
Policy, Vulnerabilities and Inequalities. The political dimensions of space, ownership, and the hidden tales; how can we assure access to public and private property and areas for belonging for black and brown people?
Space and Urban Structure. Presenters tackle the challenges of urban structures and the urban public realm. How can these spaces serve as places for cultural keeping and storytelling of neighborhoods and inspire our approach to the industry.
Place, Space, Consumption and Production. This theme debates the value of the return of corporate headquarters to cities. How can housing production and typology match the new residents? What alternative Just process and new housing types can come online quickly to support the affordable housing shortage? What are the most critical issues needed to be addressed to provide housing justice without displacement? Can these developments act as catalyst projects for ownership by the current communities?
THE EXPANDED ROLE OF THE ARCHITECT
Design, Development & Technology. The theme focuses on solutions at the intersections between design and technology to elevate, advance, and redefine the professions of architecture, planning, design and development. How do we define and sustain a design of virtue? How can we better serve and uplift our communities through integrated cultural and regenerative design processes?
Grounding In Green. The Green New Deal proposes to transition to 100% green renewable energy by 2030. How are NOMA members and allies creating initiatives, strategies and projects to harness this movement to secure economic, environmental and land security for Just communities who have traditionally been left out of national infrastructure? How can we shift our practices to devise and implement new productive partnerships with community organizations and create new business and living wage jobs.
This theme will focus on business & growth which will include seminars geared toward marketing, firm growth, investing in the future and succession planning. It will also include the development of emerging professionals: internships, ARE, AXP, mentorship, and aide in career growth.
Make Visible Your Call to Action. This theme is reserved for Oakland organizations to present ideas, proposal and challenges to the architecture and design community.

---
Portable details about the conference are here in the prospectus.

---
This is the space to watch as new information will be shared here first. In the coming weeks there will be links to registration and sponsorship. We're looking forward to your active participation in this, the most programmatically diverse and inclusive architecture conference on the planet.